A long day of work at the gallery. Lots of good things are afoot including this!
Taylor De Cordoba artists Kimberly Brooks, Frohawk Two Feathers, Kyle Field and Claire Oswalt are participating in this year's Venice Art Walk and Auction, taking place May 19 and 20.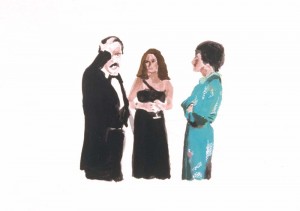 Kimberly Brooks
| Mom's Friends Study, 2008 | Gouache on paper | 8" x 11"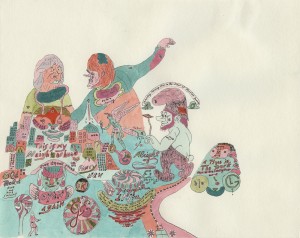 Kyle Field
| A Place in the Park, 2008 | Ink and watercolor on paper | 7 x 8.75 inches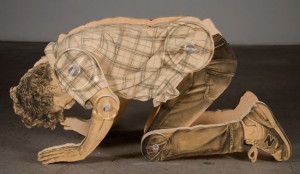 Claire Oswalt
| Doubled Over, 2009 | Graphite, paper, wood | 26''x36''x13''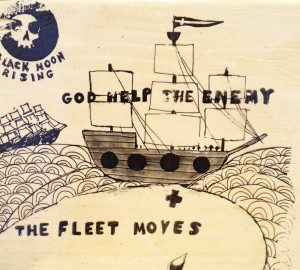 Frohawk Two Feathers
| Tales of Heroism, Part I (God Help The Enemy), 2006 | Xerographic transfer print on wood | 7.5" x 8"
This year the auction is being hosted by Google and includes artist studio tours, gourmet food trucks and live music.
Tickets to the event can be purchased on their website
.
Don't miss the all NEW Venice Art Walk & Auctions hosted by Google Los Angeles. Enjoy our curated silent art auction, live music, taste bud tingling food trucks, family art activities and exclusive Art & Architecture tours at Venice's largest community celebration! In 1979... as Venice Family Clinic struggled to provide health care services to Venice's working poor, artists in the community conceived of a simple but unique idea to raise funds. Many of these artists were patients of the Clinic and decided to open their studios for a ticketed tour to raise much-needed funds and keep the Clinic open. The Venice Art Walk was born. Venice Art Walk & Auctions brings thousands of community members together to celebrate Venice Family Clinic. Artists open their studios, architects open their homes, and as many as 400 artists donate their work to ensure that neighbors in need have access to health care. All proceeds from the event directly fund Venice Family Clinic health care services. We couldn't do it without YOU!